Any Thickness. Any Firmness. Three Simple Ingredients
OVER 30,000 SOLD - PATENTED
Patented Wedge + Huge Zipper- Buy Risk-Free!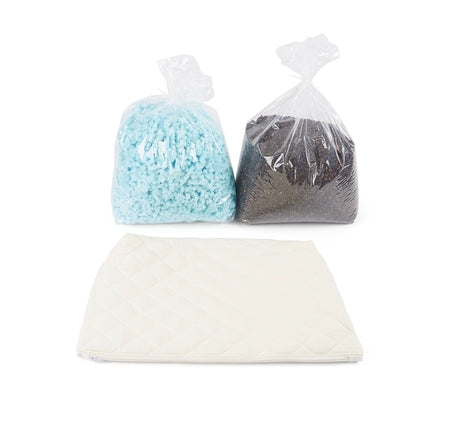 Get your hands on it.
There is nothing "conventional" about this pillow. You've never felt one like it. Buckwheat hulls + Cool Gel Memory foam. Quilted bamboo cover. Its firmness-softness balance is 100% adjustable. Make it your very own Perfect Pillow!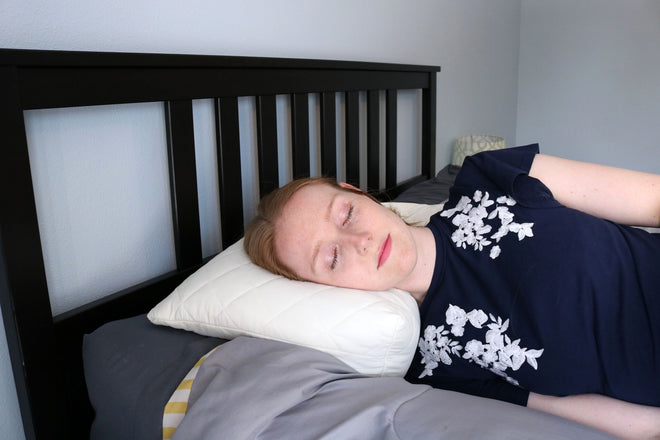 Complete Versatility!
The FitMe Pillow is like making a cake with three ingredients: 1) our patented, quilted, wedge-shaped bamboo cover; 2) Cool Gel Memory Foam; and 3) premium buckwheat hulls. The foam is squishy soft. The hulls firm up the foam. The more hulls, the more firm. This hybrid filling comfortably supports the full weight of your head unlike any other pillow on the market.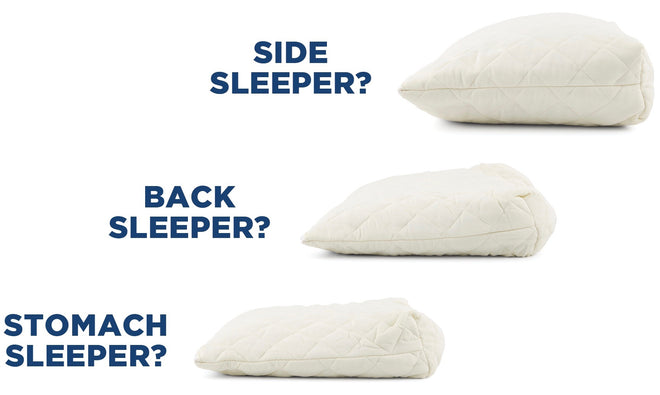 A perfect fit.
Use the huge zippered opening to reach your own pillow thickness perfection. It will never go flat!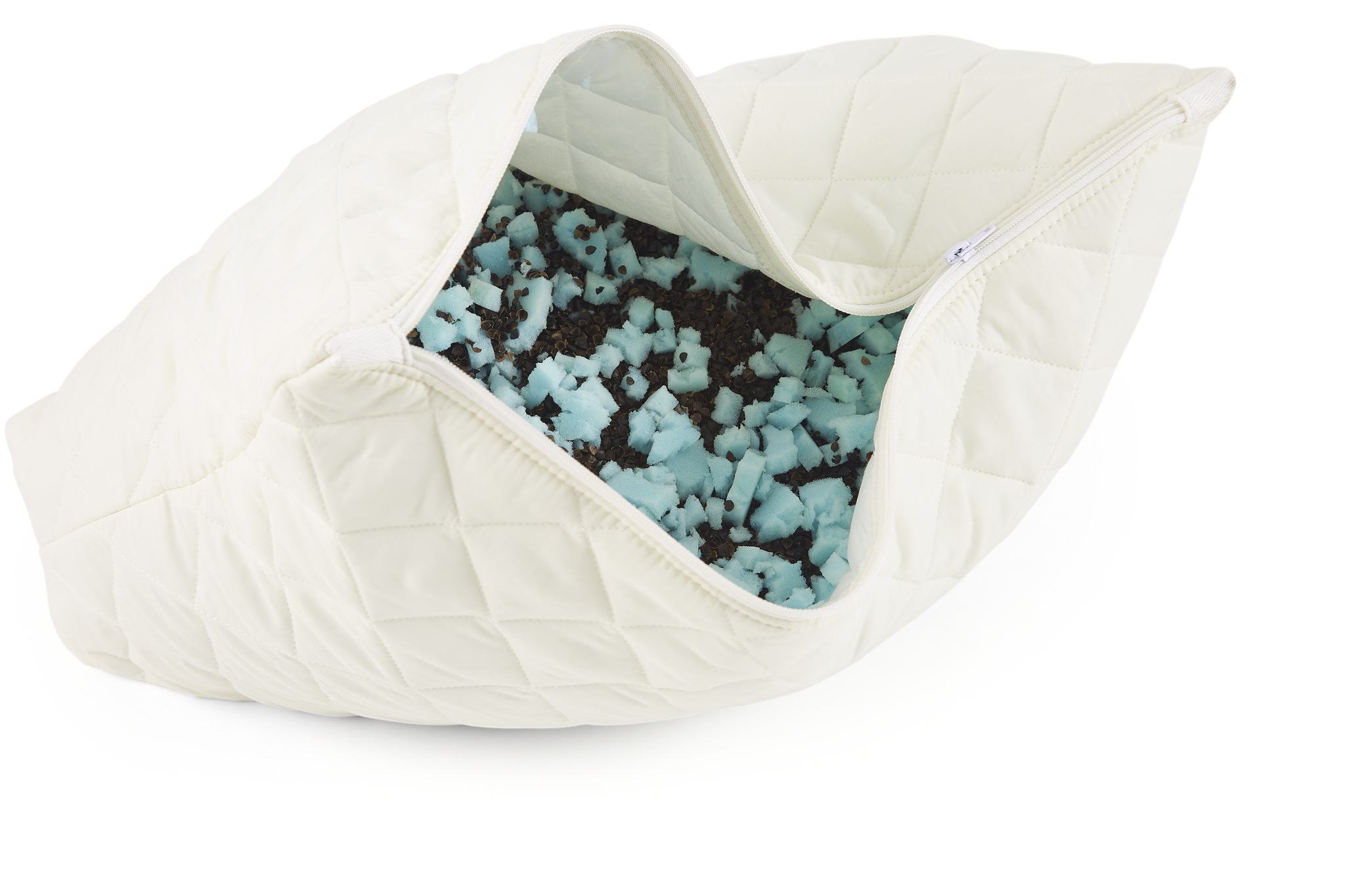 Personal. Comfortable. Supportive. Innovative. The FitMe Pillow is the solution to sleep deprivation.
Questions?
Give us a call at 888-750-4807.
Blog posts
The Best Firm Pillow
May 03, 2018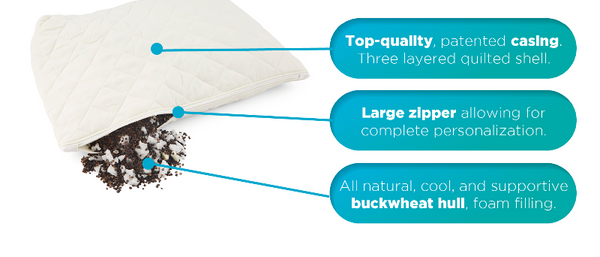 If you often wake up with a stiff neck and aching back, you're in good company – nearly 85% of all Americans have suffered from neck pain in one point of their lives - and the cause is… your pillow.   You probably know that the firmer the pillow is, the more support it can offer to your head, thus minimizing the risk of neck pain.  In reality, however, most commercially-available pillows – whether made with foam or feathers – simply can't support the weight of your head.  Your head weighs a lot more thanyou think.  It's like a bowling ball!  What's more, these materials act as springs, pushing against the weight of your head all night.  And if the pillow isn't holding the weight of your head, what is?  Your neck!  No wonder it's so stiff and sore all the time.  There's only one pillow filling that is firm enough to lock down and support 11 pounds – buckwheat hulls.  Buckwheat hulls are the husk of the buckwheat grain and they flow like water, so they can fit any shape.   Buckwheat hulls make ideal pillow stuffing material.  There's only one problem:  Traditional buckwheat hull pillows are terribly uncomfortable.  Plus, the buckwheat hulls just flow too well—they're too slippery!  Traditional buckwheat hull pillows have no structure—nothing to hold the hulls in place where you want them.  So they don't stay in place all night.  Plus the hulls are rough textured, make a lot of noise, and are quite heavy and dense.   So if traditional feather or foam pillows can't support your head, and buckwheat hull pillow is too uncomfortable, what's the solution?  It's simpler than you've ever thought.  FitMePillow is a totally redesigned buckwheat hull pillow for the 21st Century.  It has a unique design that combines a quilted shell faced with silky smooth, 100% bamboo, and filled with a hybrid filling of buckwheat hulls softened with shredded soy oil-based foam. The buckwheat hulls offer stability and the foam provides loft and structure.  The combination of buckwheat hulls and shredded foam interlocks to hold in place all night, right where you want the support.  If you are craving firm support, this is exactly the pillow for you.  You've never felt anything like it.  It's patented!  What's more, FitMePillow comes with extra filling so you can adjust the height, size, and softness of your pillow to your taste, whether you are a side, back, or even stomach sleeper.  You can also use your hands to shape the pillow and get more support for your neck and shoulders or make a small depression in the center for extra cervical support.  Forget about back and neck pain– with FitMePillow, you get a winning combination of materials and design, for comfortable, quiet nights.  But don't take my word for it!  Here are just three customer reviews out of hundreds:  This is hands down the best pillow I have ever had. It is a godsend. All the other cervical pillows I have tried, even if they come in different sizes, once you choose a size are one size fits all. And that never worked for me. This one is adjustable, both by adding or subtracting filling and by squashing the pillow around to get it just right under your head. If you are leaning at all toward buying this pillow, I would do it!  I tried the pillow, and I am very glad that I did.  -John  I can't believe that I have been wasting years and money on cotton and memory foam pillows, when buckwheat was where it was at all this time!!!! Who knew???? I sure didn't! Oh, but I do now! Love this pillow, so Comfortable, so Glad I tried it! I will never sleep with anything else! Keeps you cool, and keeps your head supported, what else could you ask for?   -LadyB   This is the best pillow I've ever owned, and I have owner several over the years. It is everything the seller claims. How it can be both firm and gentle at the same time is quite amazing. This pillow does conform to your head and neck for custom support.  It holds the shape for as long as you are in a specific position and then re-conforms to whatever new position you find comfortable as you shift during the night, all the while maintaining a cool feel.  -Trevor  Get your hands on your own FitMe Pillow now, available at www.fitmepillow.com 
Interlocking Pillow Filling - The Most Versatile Pillow!
May 03, 2018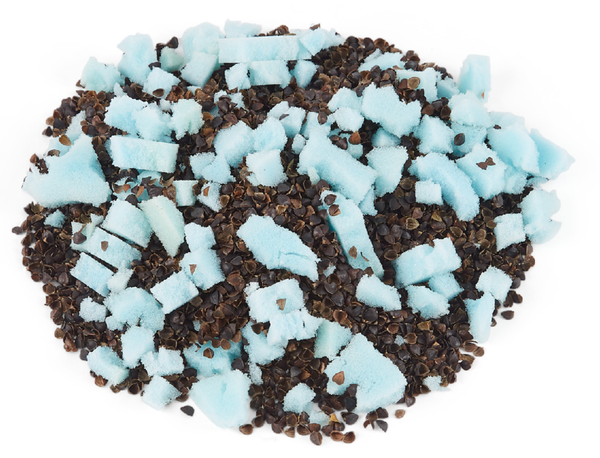 Our secret is in the filling--it's unlike anything you've ever tried.  Buckwheat hulls provide firm support.  Our new premium, Cool Gel Memory Foam provides just enough loft to be comfortable. Plus they lock down those little hulls in place.  It's perfect interlocking fill!  It's such an amazing idea that we have a patent pending on it.  You've never tried anything like it.  Get your hands on one of our FitMe pillows and find out for yourself.