FitMe Pillow - PRE-FILLED (50/50)
$59.95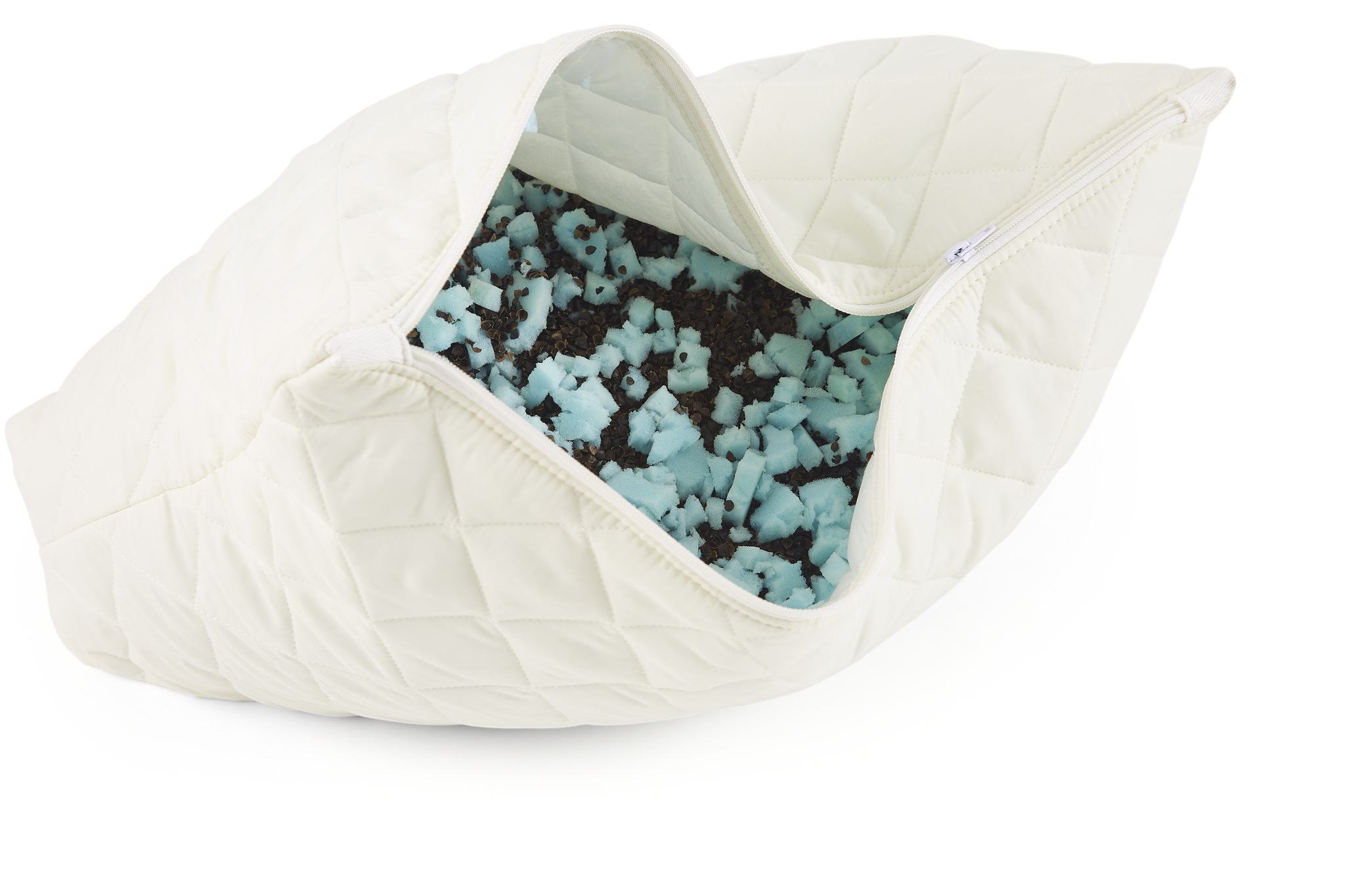 Your pillow is a tool. Its job is to support the weight of your head comfortably so your neck can relax. The FitMe Pillow has a large zipper so you can get the filling just how you want it. Its wedge shape puts extra filling right under your neck. 
Based on a decade of experience and over 30,000 pillows sold, I have found that a blend of about 50/50 shredded Cool Gel Memory Foam and buckwheat hulls is the best pillow filling on the planet.  It's interlocking fill that holds its shape and easily supports the weight of your head.  Our premium Cool Gel Memory foam is cool to the touch and provides loft and squishy comfort. The hulls provide firmness and support.  The softness - firmness factor is totally adjustable.  The more hulls, the more firm the filling. For people who like a very soft pillow, just use foam.  If you want more support, add more hulls. The pre-filled FitMe Pillow comes with extra foam and extra hulls for customization.  It can be a little messy but it's worth the effort! 
100% Natural Buckwheat
Premium Cool Gel Memory Foam
100% Bamboo Cover

Unique Shapeable Fill = Adjustable, Comfortable, and Supporting

Includes Extra Hulls (6 quarts) and Foam (6 quarts) for Customization
Free Shipping (lower 48 states)
Purchase the double pack to receive two FitMe Pillows for a discounted price.
Best pillow I have ever used
Allows me to select the height I want and is extremely comfortable and supportive. Have used them for years.
Supportive and comfortable
The pillow confirms perfectly for best support and I bought a second one to use between my legs which keeps my knees and feet comfortable.
Perfect with CPAP
I've struggled to adjust to sleeping with a CPAP machine and this pillow has made a huge difference!
Great, but I wish it had a recipe for the fill.
I love the pillow after making adjustments to the fill 3 or 4 times. The pillow came prefilled so It took quite some time to get the fill correct(lots of scooping). I wish the filling came in pre measured bags and a guide to help me get the right fill for me. That would be great! Thank you for the amazing product. Best pillow ever!
Best pillow ! Fan since 2015. Buying 2 now
I sleep great with it. Sleep apnea dr. suggested it. I fluff it the way I like and I'm out. Heat dissipates excellent too. Swap out guts every year