FitMe Pillow KIT - Hulls Only
$59.95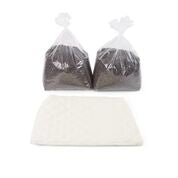 For the buckwheat hull pillow purists out there, welcome to the best buckwheat hull pillow on the market!  Fascinated with buckwheat hulls as a pillow stuffing, I was highly disappointed with standard buckwheat hull pillow offerings.  They are way too uncomfortable for me to use!  So I set out to improve the comfort factor.
Our patented, quilted pillow shell is the perfect way to experience a buckwheat hull pillow.  The exterior covering is 100% bamboo viscose.  The wedge shape puts the mass of hulls right where your body needs it the most--under your neck!
This SKU is for our pure Buckwheat Hull Pillow Kit.  It ships with one empty, patented FitMe Pillow shell, and two, 18-Quart bags of our super clean, premium buckwheat hulls.  
100% Natural, U.S.-grown Buckwheat Hulls
100% Bamboo Cover
Free Shipping (lower 48 states)
Purchase the double pack to receive two FitMe Pillows for a discounted price.