FitMe Pillow KIT - Hulls + Foam
$59.95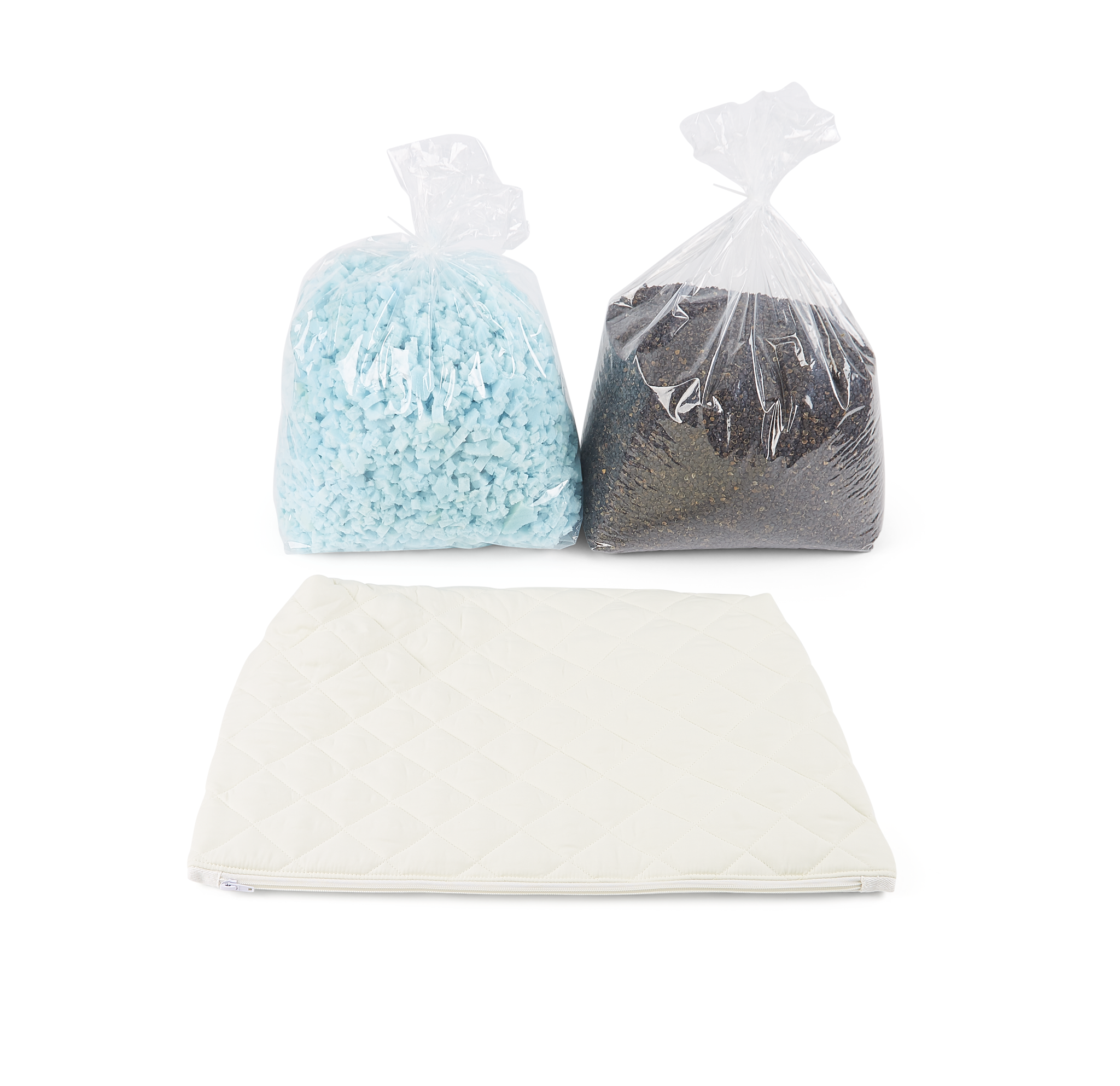 Your pillow is a tool. Its job is to support the weight of your head comfortably so your neck can relax. The FitMe Pillow has a large zipper so you can get the filling just how you want it. Its wedge shape puts extra filling right under your neck. 
Based on a decade of experience and over 30,000 pillows sold, I have found that a blend of about 50/50 shredded foam and buckwheat hulls is the best pillow filling on the planet.  It's interlocking fill that holds its shape and easily supports the weight of your head. The foam provides loft and comfort. The hulls provide firmness and support.  The softness - firmness factor is totally adjustable.  The more hulls, the more firm the filling. For people who like a very soft pillow, just use foam.  If you want more support, add more hulls. The pre-filled FitMe Pillow comes with extra foam and extra hulls for customization.  It can be a little messy but it's worth the effort! 
This SKU is for our Pillow Kit.  It ships with one empty, patented FitMe Pillow shell, one 18-Quart bag of shredded Cool Gel Memory Foam, and one 18-Quart bag of our super clean, premium buckwheat hulls.  Simply put the foam in your pillow shell and start adding hulls until the desired firmness is achieved.
100% Natural Buckwheat Hulls
Premium Cool Gel Memory Foam
100% Bamboo Cover
Free Shipping (lower 48 states)
Purchase the double pack to receive two FitMe Pillows for a discounted price.
Great Pillows!
I ordered this pillow a couple of years ago and wanted a second one for my husband. Had trouble finding it online but after my third search, it came up on Amazon as "unavailable". Went to the actual website and ordered it . My Husband and I both love the fact that this pillow is cool and malleable to each comfort level. Love the new memory foam as the old foam has really deteriorated. Bought extra memory foam and replenished my pillow and it makes a BIG difference. Thanks for the upgrade in quality.
fills in and supports the gaps
I move around a lot when I'm sleeping, and about 30% of my sleeping time is shared with an infant. I was getting tons of neck pain from accommodating baby while sleeping. This pillow moves with me and is easily squished in to place to support to my neck, upper back or any place a gap might otherwise happen.
We keep buying more of these--great pillows!
We've been using these pillows for a long time. Bought another one for my wife and found out they changed to new foam--and it's really a great improvement. The texture is different. It's kind of squishy-soft instead of ordinary, chunky foam. I bought more foam for my old pillow, but then I decided to just buy a whole new pillow and let my kids use my old one. Decided to get this kit. Just filled up the shell with the blue foam and started adding hulls till it was the right level of firmness for me. This is the best pillow I've ever used.