FitMe Pillow KIT - Foam Only
$59.95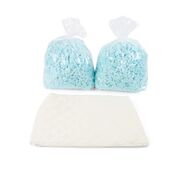 Your pillow is a tool. Its job is to support the weight of your head comfortably so your neck can relax. The FitMe Pillow has a large zipper so you can get the filling just how you want it. Its wedge shape puts extra filling right under your neck. 
The patented FitMe Pillow features a large zipper and a unique wedge shape.  This lets you fill it with whatever stuffing you like.  Our premium Cool Gel Memory Foam is an outstanding foam pillow stuffing.  It's squishy soft yet dense and is cool to the touch.  No more hot memory foam pillows!   
This SKU is for our Foam-Only Pillow Kit.  It ships with one empty, patented FitMe Pillow shell and two, 18-Quart bags of shredded Cool Gel Memory Foam.  Adjust the volume to your personal liking!
Premium Cool Gel Memory Foam
100% Bamboo Cover
Free Shipping (lower 48 states)
Purchase the double pack to receive two FitMe Pillows for a discounted price.